For me Father's Day has always been about being active with my family. Whether we are building a new sandbox or going for a hike as we have in Father's days previously it is all about spending quality, engaging, and active time together.
On Father's day, and everyday other day of the year, I am thankful for the good health that allows me to be active and engaged with my kids. Unfortunately for many men, good health is not a given.
Heart disease is the #1 cause of death for men in America.
According to the American Heart Association more than 9.6 million men in American have been diagnosed with diabetes with additional 5.3 million men currently undiagnosed.
The National Institute of Health estimates that 3 out of every 4 men is overweight or obese.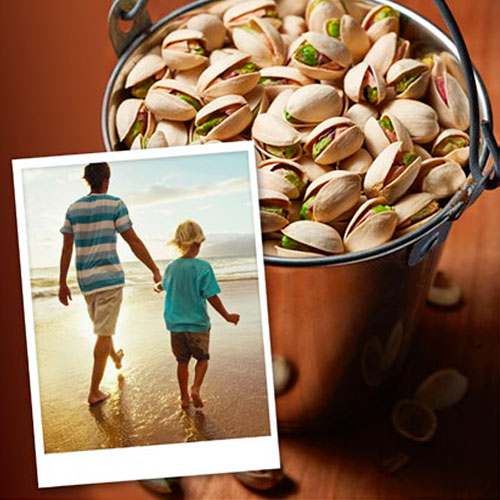 As men and fathers, we cannot take our health for granted but the statistics show that we have.
Leading a healthy and active lifestyle is difficult for anyone and everyone needs a little help. This year for Father's Day I recommend that you give your dad a gift that says *We want you to take care of your health because we want you to stick around*.
Here are some gift ideas:
Build a 'New Favorites' Cookbook – I love homemade gift from my children and this would be a great one to get. Create a list of your Dad's favorite foods and remix them so that they are better for them. This could mean increasing the lean protein, reducing the sugar, or adding more vegetables.
Pistachios - Pistachios should be a go to delicious snack for your Father. He might already snack on pistachios while watching the big game but you should encourage him to add pistachios as an everyday snack in lieu of traditional snack foods like cookies and chips. Pistachios contain fat, fiber, and protein which will help keep him full and satisfied between meals. Research from Penn State University also shows that snacking on pistachios and reduce risk factors for heart disease.
Athletic Shoes - Runnings shoes or cross trainers. Get your father a pair of shoes that he'll feel good working out in. More importantly whenever he looks at these shoes he'll know that they were a gift from a loved one that cared about him taking care of himself.
Activity Tracker - Activity trackers are great reminders about how active you have been that day, week, and month. Measuring and monitoring your general levels of daily activity is a great first step towards leading a more active life.
All these gifts ideas are great, simple ways that you can engage and encourage your dad to life a healthier more active life this Father's day so that you can celebrate many more Father's day with him in the years to come.