Pistachio Clam "Casino"
Yield
6 servings
Ingredients
24 Hard-shell clams (littlenecks or cherrystones), scrubbed
¼ cup Salted butter
¼  cup Finely chopped red bell pepper
½  cup Finely chopped shallot
½ cup Dry white wine 
¼ cup Dry Vermouth
1 cup Chopped pistachios, unsalted
½ cup Coarse fresh breadcrumbs
½ cup Grated Parmigiano-Reggiano
¼ cup Finely chopped flat parsley
Freshly ground black pepper
Espelette pimento
3 slices Bacon, sliced crosswise ¼-inch thick
Lemon wedges, for serving
Instructions
Shuck the clams, retaining bottom ½ shell, discard the top shells. Collect the meat and the juice and put them in a skillet. Bring to a boil. 
Arrange the clams back on the shells on a heavy-duty rimmed baking sheet.
Melt the butter in an 8-inch skillet over medium heat. Add the bell pepper and shallot and cook, stirring occasionally, until softened, about 5 minutes. 
Stir in the wine and Vermouth; cook until the liquid is reduced by half, about 2 minutes. 
Remove the skillet from the heat and stir in the pistachios, breadcrumbs, Parmigiano, parsley, and a few grinds of black pepper, and Espelette pimento.
Chopped the bacon, and add to the mix.
Spoon some of the pistachio mixture onto each clam. 
Broil the clams until the topping is just browned, about 5 minutes. 
Squeeze the lemon wedges over the clams before serving.
You can also use this stuffing for bay scallops, oysters, razor clams.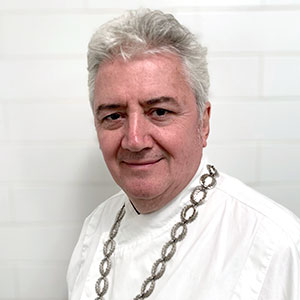 Heights Casino, Executive Chef
Member, Académie Culinaire de France
Médaille d'Or, Académie Culinaire de France
Chevalier, Ordre du Mérite Agricole *
Médaille de Vermeil, Ville de Paris
President – Maître Cuisinier de France USA-Caneda Chapter