Asparagus Salad with Spinach and Pistachio Puree, Mango Gel, Morel Mushroom and Micro Herbs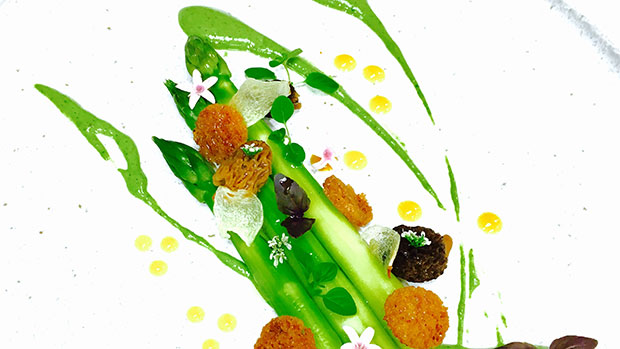 Yield
4 servings
Ingredients
Green Asparagus
12 Green asparagus spears, medium size                                                                                          
Spinach & Pistachio Puree
1/3 cup Fresh lemon juice                                                       
1 Shallot, chopped    
1 tablespoon Red wine vinegar
1 tablespoon Honey
1 tablespoon Dijon mustard
¾ teaspoon Salt and pepper
¾ cup Pistachios
5 ounces Fresh spinach
1 cup Olive oil
Mango Gel
0.01 ounce Agar-agar
9 ounces Mango purée
Croutons
5 slices bread, ½-inch thick                                                             
¼ cup Butter  
2 teaspoons Salt
Morel Mushroom
3 ounces Fresh or dried morel mushrooms
½ cup Butter
2 Shallots, chopped
Garlic Chips 
10 Peeled plump garlic cloves, thinly sliced     
3 cups Canola oil 
Micro Herbs (Optional) 
Micro green parsley
Apple blossom
Micro dark opal basil
Instructions
For the Asparagus
Wash and peel the asparagus; cut off bottoms (1 inch and discard).
In a wide pot, boil a few inches of generously salted water and add asparagus. Cook at a rapid simmer for 3 minutes. Immediately plunge the spears into a bowl of ice water to halt the cooking and keep them green. Remove from ice water and blot to avoid waterlogged asparagus. Set aside.
For the Spinach and Pistachio Puree
Process lemon juice, chopped shallot, red wine vinegar, honey, Dijon mustard, salt and pepper, pistachios, and spinach in a blender until smooth. With blender running, add olive oil in a slow, steady stream; turn off blender.
For the Mango Gel
Place the agar-agar in a saucepan with the mango purée and whisk until smooth. Bring to a simmer while stirring. Remove from the heat, cool and then refrigerate until set, about 20 minutes. Blend the set mixture until smooth. Transfer into a piping bag and set aside until required.
For the Croutons
Preheat oven to 350 degrees F. Cut bread slices into ½-inch small round shapes. Brush bread on both sides with melted butter.
Bake at 350 degrees F. for 5 minutes or until browned. Sprinkle with salt and let cool. Set aside until required.
For the Morel Mushrooms
To clean morel mushrooms, place mushrooms in a bowl cover with water and soak for 10 to 15 minutes. Drain, rinse, and repeat three more times. Pat mushrooms dry. Trim ends of stems, if necessary. Slice mushrooms lengthwise in half, or quarter large mushrooms.
In a sauté pan, melt the butter over medium heat. Add shallots and sauté until lightly brown; add mushrooms and cook for 3 to 4 minutes, gently stirring occasionally. Serve warm.
For the Garlic Chips
Set a coarse strainer over a heatproof bowl. In a small saucepan, combine the garlic slices with the canola oil and cook over moderate heat, stirring frequently, until the garlic is golden, about 15 minutes. Drain the garlic in the strainer, shaking off any of the excess cooking oil. Spread the garlic chips on a paper towel-–lined baking sheet and let them cool. Reserve the strained garlic oil for another use.
To Plate 
Place 3 green asparagus stalks in the middle of each plate. Gently swipe spinach and pistachio puree around asparagus.
Make mango gel dots around puree and asparagus.
Place croutons, Morel mushrooms, garlic chips and micro herbs around and atop asparagus and plate.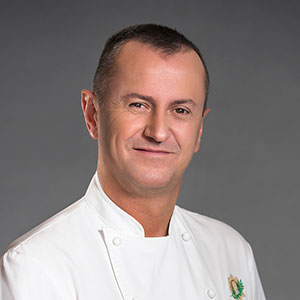 Executive Chef, The Venetian and Palazzo Resort and Casino, Las Vegas
Member – Maître Cuisinier de France (Master Chef of France)