Warm Goat Cheese Salad – Pistachio Parmesan Tuile Fig Rosemary Dressing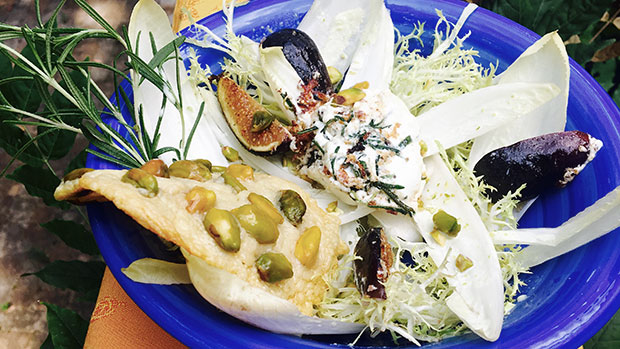 Yield
4 servings
Ingredients
Dressing
1 Shallot, chopped
2 Fresh figs, cut up
3 tablespoons Red wine vinegar
1 ounce Balsamic vinegar
Salt and pepper, to taste
½ teaspoon Rosemary, chopped 
3 ounces Olive oil
Salad
4 Fresh goat cheese discs
Olive oil and chopped rosemary, as needed
4 tablespoons Shredded Parmesan cheese, heaped
3 tablespoons Pistachios, shelled, skinned and toasted slightly
1 head Frisée lettuce, cleaned and cut up
1 Belgium endive, cleaned and julienned (long strips)
4 Fresh Figs, cut in quarters
Instructions
For the Dressing
In a small saucepan, add the shallot, the quartered fig and the two vinegars. Add salt and pepper and heat gently for 3 minutes, without boiling. Add chopped rosemary and process in a food processor (not a blender). Pour the contents in a bowl and whisk in the olive oil. Taste; if too sweet add the juice of a lemon.
For the Salad
Marinate the 4 discs of goat cheese with a drizzle of oil and a bit of rosemary. Place in a nonstick pan.
Turn the oven on 425 degrees F. On a nonstick cookie sheet or on a silk pad, make four 4-inch wide spreads of Parmesan cheese; bake for 5-7 minutes. Before they get cooked and golden brown, spoon the pistachios on top of the Parmesan discs, pressing them in slightly (keep a few pistachios for the finish). When the tuiles are golden brown, remove them quickly with a plastic or wooden spatula; place them on your table or on a rolling pin to curve them. Change your oven into a broiler and insert the pan with the goat cheese.
Toss the greens in the bowl along with the dressing. Place the tuile on top and add the goat cheese on the tuile. Display the quartered figs and the remaining pistachios on the plate.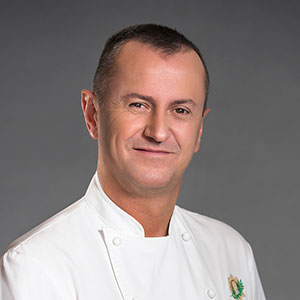 Executive Chef, The Venetian and Palazzo Resort and Casino, Las Vegas
Member – Maître Cuisinier de France (Master Chef of France)