Chicken & Pistachio "Fried Rice" with Fresh Ginger & Chinese Hot Mustard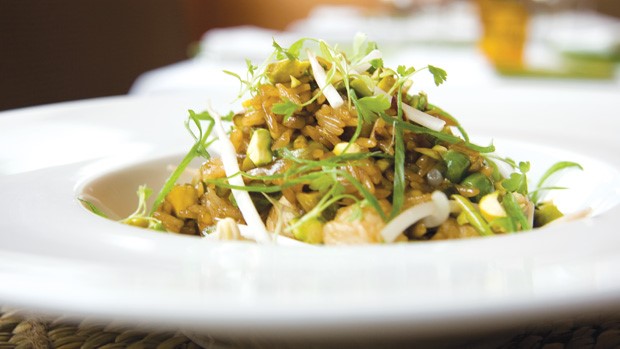 Yield
4 to 6 servings
Ingredients
4 tablespoons Peanut oil
1 pound Chicken breast (skinned, cut into 1/2" cubes)
1 tablespoon Sesame oil
2 tablespoons Fresh ginger, minced
¼ teaspoon Fresh garlic, minced
3 cups Cooked white rice, cold
1½ cups Pistachios, shelled
½ cup Peas
¼ cup Scallions, chopped
3 tablespoons Oyster sauce
¼ cup Water
1 tablespoon Chinese mustard
2 tablespoons Soy sauce
Sea salt
1 cup Chinese mustard greens
1 teaspoon Sesame oil
1 cup Fresh mung bean sprouts
2 tablespoons Pistachios, shelled, chopped (for garnish)
Instructions
In a wok (or large non-stick fry pan) over high heat, heat 2 tablespoons of peanut oil until oil begins to smoke.  Add chicken and stir fry until browned on all sides.
Remove and let drain.  Meanwhile, add remaining 2 tablespoons of peanut oil and sesame oil into wok and return to high heat.  Quickly cook together ginger and garlic for 10 seconds or until fragrant.  Add rice, pistachios, peas and scallions and continue stir frying for 2 minutes, stirring often.  Add chicken, oyster sauce, water, mustard and soy sauce and let cook 3-5 minutes or until hot throughout. Remove from heat and season with salt if needed.
Lightly toss mustard greens in sesame oil.
To Serve
Mold warm fried rice onto warm serving plates and garnish with greens, pistachios and bean sprouts.
 
Nutritional Facts (Amount per Serving):
Calories 500, Total Fat 27g, Saturated Fat 4g, Monounsaturated Fat 13g, Cholesterol 45g, Sodium 820mg, Potassium 670mg, Carbohydrate 36g, Dietary Fiber 5g, Protein 28g 
A native of San Diego, California, and a 1990 graduate of the School of Culinary Arts at Kendall College in Evanston, Illinois.