Gluten Free, Low Fat Pistachio Pasta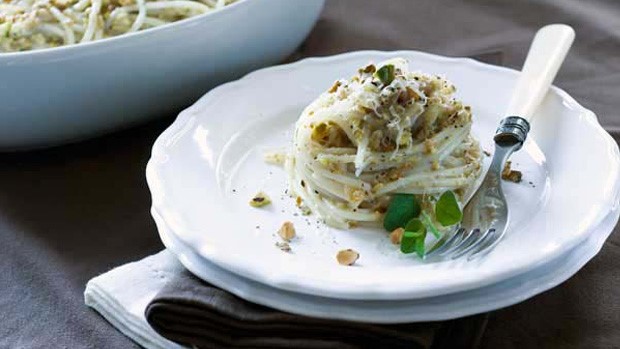 Yield
6 servings
Ingredients
1 cup Unsalted pistachios – use divided
2 tablespoons Olive oil
1½ pounds Gluten-free rice pasta
1 Small white or yellow onion, chopped (about 1 cup)
1-2 Cloves garlic, minced
4 Anchovy fillets
½ teaspoon Crushed red pepper flakes
½ teaspoon Black pepper
2 Cups nonfat or low fat milk or dairy-free milk
¼ cup Parmesan cheese, finely grated plus more for garnish (optional – leave out for dairy free)
Salt
Instructions
Put ¾ cup of the pistachios in a food processor and grind until fine. Roughly chop the remaining ¼ cup of pistachios (about ⅛-inch pieces) and set aside for garnish.
Bring a large pot of salted water to a boil. Add the pasta and cook until al dente – usually 2 minutes less than recommended on the package directions. Stir the pasta occasionally while cooking to prevent it from sticking to itself.
While pasta is cooking make the sauce. In a skillet over medium heat, heat the olive oil; then add the chopped onion. Cook onion until soft and translucent, about 5 minutes.
Add the minced garlic, anchovy fillets, red and black peppers. Cook for 2 minutes, smashing the anchovies as they cook to dissolve into the olive oil. Add the ¾ cup of ground pistachios and cook for 2 more minutes. Add the milk, turn up the heat to high and bring to a boil.
Reduce heat to maintain a slight boil and cook uncovered, stirring frequently, for 10 minutes or until the sauce has thickened. There will be some extra liquid in the sauce, but it will be absorbed by the pasta.
Add the ¼ cup parmesan cheese if you are using it. Taste the sauce and add salt if necessary. Turn off the heat.
When the pasta is finished cooking, remove 2 or 3 ladles of the pasta-cooking water and reserve and then drain the pasta. Return the drained pasta to the hot pan it was cooked in, add the pistachio sauce and cook over medium heat for a minute or two, tossing the pasta with the sauce to combine. Add some of the reserved pasta cooking liquid to the dish if the sauce seems too thick.
Serve with the reserved chopped pistachios sprinkled on the pasta and some additional parmesan cheese if using.
Nutritional Facts (Amount per Serving):
Calories 640, Total Fat 16g, Saturated Fat 3g, Monounsaturated Fat 8g, Polyunsaturated Fat 3g, Cholesterol 10mg, Sodium 260mg, Potassium 415mg, Total Carbohydrate 104g, Dietary Fiber 4g, Sugars 7g, Protein 18g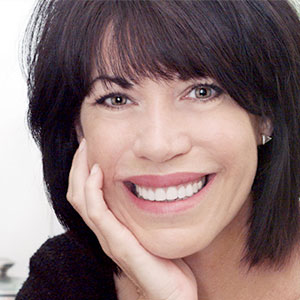 Carol Kicinski founded Simply Gluten Free as a gluten-free recipe and lifestyle website and blog.