Pistachio Orange Granola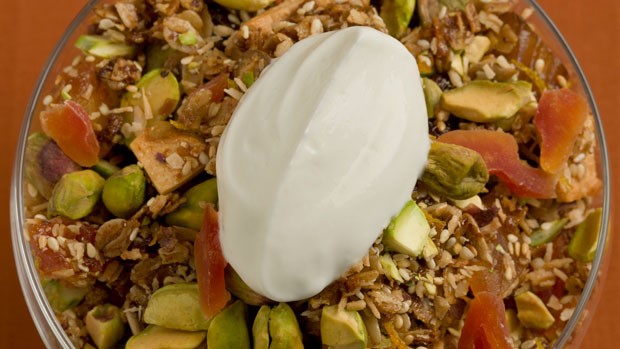 Yield
8 servings
Ingredients
1 cup Unsweetened shredded coconut
2 tablespoons Flax seed oil
⅓ cup Maple syrup
Grated zest of 2 large oranges
4 cups Old -fashioned (rolled) oats
1 cup Pistachios
⅓ cup Honey
2 teaspoons Ground cinnamon
½ teaspoon Freshly grated nutmeg
⅓ cup Sesame seeds
1 cup Chopped dried fruits including dates, apples, apricots
Instructions
Position racks in the center and upper third of the oven and preheat to 375° F.
Spread the coconut on a baking sheet. Bake on a center rack, stirring often, until lightly toasted, about 10 minutes. Transfer to a large bowl.
Bring the flax seed oil, maple syrup and orange zest to a simmer in a medium saucepan. Place oats, pistachios, honey, cinnamon, nutmeg and sesame seeds in a bowl and toss well with saucepan ingredients. Spread mixture on baking sheets.
Bake the mixture in a 375° F. oven, stirring often, switching the position of the baking sheets from top to bottom and front to back halfway through baking, until the granola is golden brown, about 15 minutes.
Remove from the oven and let cool. Stir the granola into the bowl of coconut along with dried fruit. (The granola can be stored at room temperature in airtight containers for up to 1 month.)
Serve with Greek yogurt.
 
Nutritional Facts (Amount per Serving):
500 calories, 10.5 g protein, 24 g fat, 9 g saturated fat, 69 g carbohydrates, 32 g sugars,10 g fiber, 0 mg cholesterol, 13 mg sodium.