Sweet Onion Agnolotti with Pistachio Sauce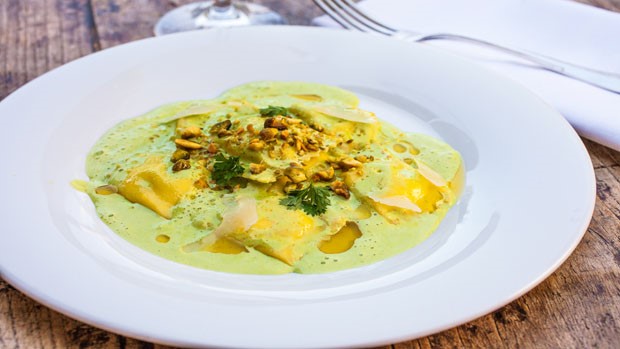 Ingredients
For the pasta
4 cups "00" flour
6 eggs
Filling
1 cup Drained ricotta
2 Sweet onions minced
Salt
Nutmeg
1 tablespoon Olive oil
Pistachio cream
1 cup Pistachios, lightly toasted
10 Sprigs fresh mint
½ cup Loosely packed parsley leaves
2 Cloves garlic
1 Small onion
Fresh ground white pepper
1 quart Cream
1 tablespoons Olive oil
Instructions
For the Pasta
Mix the flour and eggs together and knead until smooth and well blended. Cover with plastic film and let rest at room temp until ready to use.
For the filling
Cook the onions over low heat until they are golden and sweet. Mix with ricotta and season with freshly grated nutmeg, salt and white pepper
For the pistachio cream
Sweat the onion and garlic in olive over low heat until translucent. Add ¾ cup of the pistachios and the cream and bring to a simmer. Remove from the heat and pour the contents into a blender. Puree on high for 1 minute or until the cream is smooth and silky. Continue to blend and add the parsley and mint and puree for 1 minute more. Pour the cream into a sauce pot until ready to use.
To Finish
Roll the pasta out to the finest setting. Cut the sheets in half lengthwise. Pipe the filling into the sheet. Brush the sheet with a little water then fold in half to encapsulate the filling in the pasta. Using your finger, make a separation in the filing every ½" then use a pasta cutter or knife to cut off the angnolotti. Place on a baking sheet covered with a kitchen towel until you are done with all the pasta.
Cook the pasta in boiling water for 45 seconds to 1 minute. Remove with a mesh strainer and place in a sauté pan. Add enough of the sauce to coat generously and warm through. Adjust the thickness of the sauté to your liking with the pasta water. Season with salt and white pepper.
Spoon the pasta onto a plate with the sauce. Garnish with Parmesan, chopped pistachio, and a couple sprigs of mint.