Barberry, Almond, & Pistachio Braise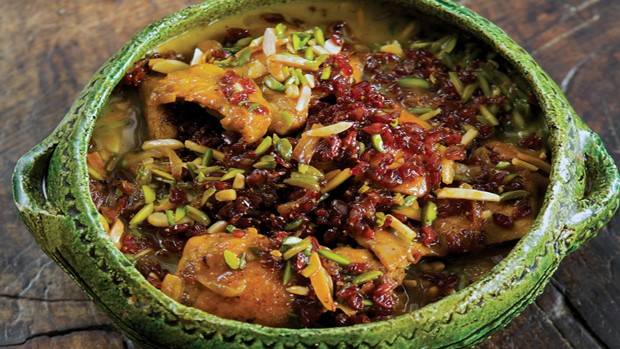 Yield
6 servings
Ingredients
6 tablespoons oil, butter, or ghee
2 large onions, peeled and thinly sliced
1½ pounds boneless chicken thighs (or lamb or beef), cut into 2-inch cubes
1 teaspoon sea salt
½ teaspoon freshly ground
black pepper
¼ teaspoon turmeric
½ teaspoon ground cinnamon
1 teaspoon ground cardamom
¼ teaspoon ground saffron dissolved in 1 tablespoon rose water or hot water
2½ cups apple cider, or water
Garnish
2 tablespoons oil
¼ cup slivered almonds, toasted
¼ cup pistachio kernels, toasted
Barberry Sauce
1 cup dried barberries, cleaned and drained
¼ cup grape molasses or brown sugar
¼ teaspoon ground saffron dissolved in 1 tablespoon rose water or hot water
2 tablespoons fresh lime juice
Instructions
In a Dutch oven, heat 2 tablespoons oil over medium heat and brown the onions and chicken. Add salt, pepper, turmeric, cinnamon, cardamom, saffron-rose water and sauté for 1 minute. Add apple cider—1 ½ cups for chicken or 2½ cups for meat—and bring to a boil. Reduce heat, cover, and simmer over medium heat for 1 hour for chicken or 2 hours for meat or until the meat is tender. Meanwhile, to make the garnish: Heat 2 tablespoons oil in a wide skillet over medium-low heat, add the nuts, and stir-fry for 20 seconds. Remove the nuts from the skillet and set aside (for garnish later). In the same skillet, heat another 2 tablespoons oil. Add the barberries, grape molasses, saffron-rose water, and lime juice. Stir-fry for 1 minute (beware, barberries burn easily; do not overcook). Set aside.
Check to be sure the meat is tender. Transfer the braise from the Dutch oven to a deep, ovenproof casserole. Add barberries on top, cover and keep warm until ready to serve. Just before serving, add the nuts and serve with saffron-steamed rice.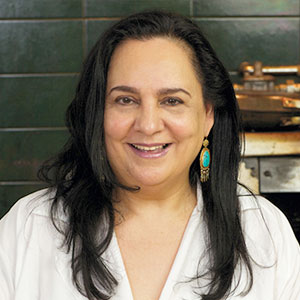 Today, Najmieh cooks, travels, and adapts authentic Persian recipes to tastes and techniques in the West.