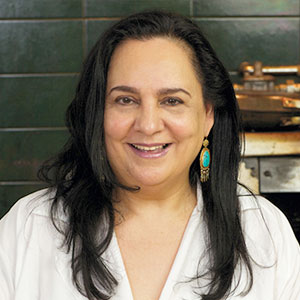 Najmieh Batmanglij was born and raised in Iran. She came to America in the 1960s, earned a master's degree in education, and returned to Iran.
At the end of 1979, as the Iranian Revolution took a more fundamentalist turn, Najmieh and her husband fled to France. At that time, Najmieh decided to follow her passion for cooking. With the help of her friends and neighbors, she wrote her first cookbook, Ma Cuisine d'Iran. In 1983 she and her husband emigrated to America, and she wrote her first book in English, Food of Life.
Today, Najmieh cooks, travels, and adapts authentic Persian recipes to tastes and techniques in the West. Hailed as "the guru of Persian cuisine" by The Washington Post, her book, Food of Life, was called "the definitive book on Iranian cooking" by the Los Angeles Times. In 2004, her second book, Silk Road Cooking, was selected as one of the 10 best vegetarian cookbooks by The New York Times, and her book, From Persia to Napa: Wine at the Persian Table, won the Gourmand Cookbook Award for the best wine history book of 2007.
Najmieh lives in Washington, DC, and teaches Persian cooking and consults with restaurants worldwide.