Crispy Lamb Belly with Pistachio Chimichurri & Butter Braised Asparagus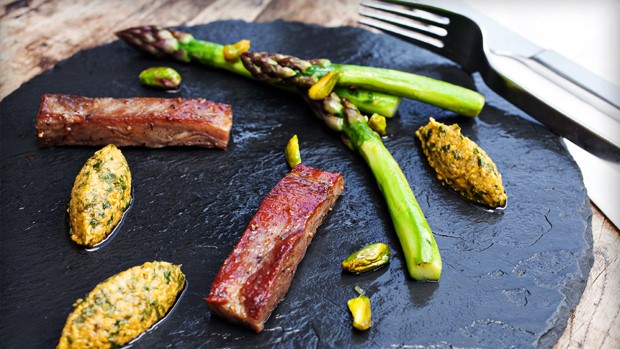 Yield
6 - 8 servings
Ingredients
Lamb
1 Lamb belly, about 1.5 pounds
Salt
Black pepper
Asparagus
One bunch Fresh asparagus
3 tablespoons Butter
½ Lemon
Salt
Pistachio Chimichurri
1 cup Basil leaves, lightly packed
½ cup Parsley leaves lightly packed
½ Oregano leaves, lightly packed
1 cup Extra virgin olive oil
5 tablespoons Lime juice
1 cup Pistachios, peeled and roughly chopped
2 Garlic cloves, sliced thin
1 teaspoon Smoked paprika
½ cup Onion, small dice
Instructions
For the Lamb
Preheat oven to 300 ˚F. Season the lamb belly with the salt and black pepper on both sides. Place in a roasting pan on a roasting rack. Cook the lamb until it pulls away when pinched with tongs, about 3 hours.
Allow the lamb to come to room temperature on the counter top. Place in the oven and press with something heavy like a cast iron skillet. Allow to press over night.
Portion into 1.5 ounce blocks.
To finish lamb
Heat a large cast iron skillet over high heat. When pan is hot add one tablespoon canola oil. When oil shimmers, add lamb belly. Do not over crowd the pan. You will need to do this in several batches. Cook the lamb until golden brown and crispy on both sides, about 2 minutes per side. Reserve warm in a 200˚ F oven.
For the Asparagus
Heat a large cast iron skillet over medium high heat. When pan is hot add the butter. Allow the butter to melt and add the asparagus. Cook for 3-5 minutes, occasionally turning the asparagus over so it cooks evenly.
For the Pistachio Chimichurri
Place all ingredients except the olive oil into a food processor fitted with a metal blade and process for 2 minutes. Scraping the sides every so often. Slowly add the olive oil. Reserve at room temperature.
Use as an accompaniment for the Lamb Belly or any other grilled or braised meats.
Suggested Pairing: CitronVodka Martini, American IPA, Viognier/Marsanne/Roussane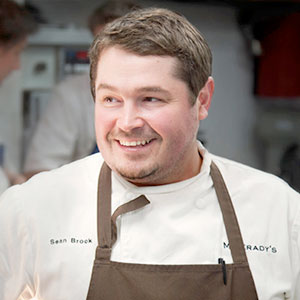 Born and raised in rural Virginia, the experience of Sean Brock's family growing their own food left a deep impression.