Crispy Pork Fritters with Pistachio Green Goddess
Yield
4 to 6 servings
Ingredients
Fritters
2 Pork shanks
4 cups Chicken stock
1 cup Dry white wine
1 cup Madeira
2 Shallots, cut in half
2 Celery ribs, cut into 2-inch pieces
1 Large carrot, cut into 2-inch pieces
2 Garlic cloves, thinly sliced
12 Thyme sprigs
1 Star whole anise
1 Bay leaf
2 tablespoons Chopped flat leaf parsley
Zest of ½ lemon
Kosher salt
Freshly ground black pepper
Breading
4 cups Panko breadcrumbs seasoned with kosher salt and black pepper
1 cup Pistachios, chopped very fine, untoasted
3 Eggs, lightly beaten with a splash of milk
4 cups AP flour
Pistachio Green Goddess Dressing:
1 cup Mayonnaise
1 cup Pistachios, peeled and chopped
1 cup Water
1 cup Chopped scallions, white and green parts
1 cup Chopped fresh basil leaves
¼ cup Freshly squeezed lemon juice
2 teaspoons Chopped garlic
2 Anchovies
2 teaspoons Kosher salt
1 teaspoon Freshly ground black pepper
1 cup Sour cream
Instructions
For the Trotters
Place the pork shanks into a medium pot over high heat. Add the chicken stock, wine, and Madeira. Slowly bring to a simmer. Skim off any scum that rises to the top. Add the shallots, celery, carrots, garlic, thyme, star anise, and bay leaf. Bring back to a simmer. Reduce the heat to medium. You only want to get a very gentle bubble every once and a while. Cover the pot and braise the shanks until the meat pulls away from the bone, about 3 hours.
Remove the shanks. Pick all the bones from the shanks and discard. Shred the meat and skin into bite- size pieces. Reserve on the counter top.
Strain the cooking liquid and put it back in the pot. Cook it over medium heat, skimming all the fat and impurities that rises to the top, until it is reduced by half, about 1 hour.
Add 1.5 cups of liquid to the pulled pork to moisten it. It should be very moist. Add the parsley, lemon zest, salt, and pepper. Place into a kitchen aid fitted with a paddle. Paddle for 2 minutes or until the mixture comes together and is emulsified. Place the mixture in a bowl and allow to cool under refrigeration for at least one hour.
When ready to cook the fritters remove and shape them into small balls about the size of a bouncy ball.
Carefully coat the pork in the flour mixture, then the egg wash and then the breadcrumb and pistachio mixture. Fry at 350˚ F until golden brown and warm on the inside.
For the Pistachio Green Goddess
Place the mayonnaise, water, pistachios, scallions, basil, lemon juice, garlic, anchovy paste, salt and pepper in a blender and blend until smooth. Add the sour cream and process just until blended. Use as a dressing for Crispy Pork Fritters and a variety of other fried snacks like onion rings, fried shrimp, fried chicken tenders and as a delicious dressing for vegetable salads.
Suggested Pairing
Champagne Cocktail, Craft Amber Beer, Chilled Pinot Noir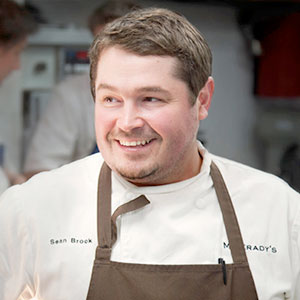 Born and raised in rural Virginia, the experience of Sean Brock's family growing their own food left a deep impression.