Antebellum Benne Crackers with Pistachio Hummus & Country Ham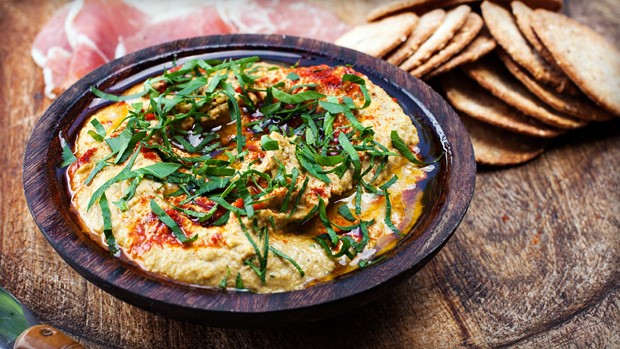 Yield
7 - 8 dozen
Ingredients
Benne Crackers
2 cups Anson Mills French Mediterranean White Bread Flour
1 cup Anson Mills Antebellum Bennecake Flour
½ teaspoon Baking powder
½ teaspoon Baking soda
1 teaspoon Kosher salt
2/3 cup Chilled lard
1 cup Anson Mills Antebellum Benne Seed
2/3 cup Cold milk
Fleur de sel for sprinkling
Pistachio Hummus
2 cups Pistachios, shelled
½ cup Water
2 tablespoons Tahini
2 tablespoons Fresh lemon juice
½ teaspoon Cumin
½ teaspoon Espelette pepper
1 teaspoon Smoked paprika
2 Garlic cloves, peeled and chopped rough
3 tablespoons Extra-virgin olive oil
1 tablespoon Parsley, chiffonade
Salt
Instructions
For the Benne Crackers
Preheat the oven to 425°F. Line 2 baking sheets with Silpats™ or parchment paper.
Watching carefully, toast the benne seeds in a heavy skillet over medium heat, stirring occasionally, until light brown and fragrant, about 5 minutes. Spread them out on a baking sheet to cool.
Sift the White Bread Flour, Bennecake flour, baking powder, baking soda, and salt into a large bowl. Cut the lard in with two forks until it is the size of peas. Fold in the benne seed. Stir in the milk.
Knead the dough on a lightly floured work surface until it comes together, about 3 minutes. Divide it into 3 parts. Working 1 piece of dough at a time and keeping the surface lightly floured, roll the dough out in a paper-thin circle. Prick it all over with a fork and cut out rounds with a 2-inch cutter. Transfer the rounds to the prepared baking sheets and sprinkle them lightly with the fleur de sel.
Bake the wafers about 8 minutes, until golden brown. Halfway through, switch the sheets top to bottom and rotate them front to back them to ensure even baking. Remove the wafers to a wire rack to cool. They will keep for up to five days in an airtight container.
For the Hummus
In a large saucepan over high heat, add the pistachios and cover with water by 2 inches. Bring to a simmer and allow to cook for 20 minutes or until they soften. Drain and reserve on the countertop.
In a food processor fitted with a metal blade, add the pistachios, tahini, lemon juice, cumin, espelette, and garlic. Process until smooth, about 4 minutes. Slowly incorporate 2 tablespoons of the olive oil.
When ready to serve sprinkle the top of the hummus with the paprika, the remaining olive oil and the parsley. Serve with thinly sliced county ham and the benne crackers.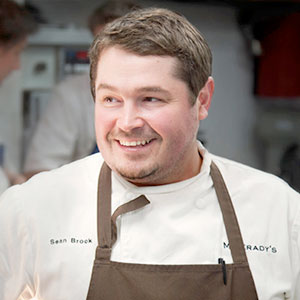 Born and raised in rural Virginia, the experience of Sean Brock's family growing their own food left a deep impression.