Paneer Mushroom Canaloni
Ingredients
300 g Paneer
50 g California Pistachios                            
40 g Mushroom                   
10 g Ginger Garlic               
10 g Garam Masala        
50 g Pomegranate Seeds
Salt as per taste
Instructions
Heat oil in a pan. 
And ginger garlic and stir for sometime.
Add sliced mushrooms, chopped pistachios, pomegranate seeds, garam masala and season with salt. 
Mix it well and keep aside. 
Take a very thin slice of paneer and put the mixture in the centre and make a roll. 
Then put the stuffed paneer roll on a hot plate and grill from both side. 
Coat the grilled paneer with chopped pistachios. 
Serve hot.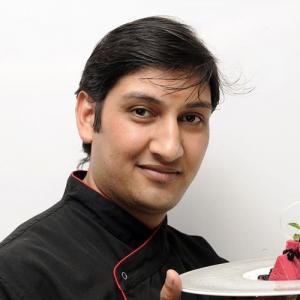 As the Executive Chef (pastry) at Roseate Hotels and Resorts in New Delhi, Chef Anand Panwar designed the much-acclaimed Roasted by Roseate Patisserie and Boulangerie, in Roseate House New Delhi.