Pistachio Chocolate Soufflé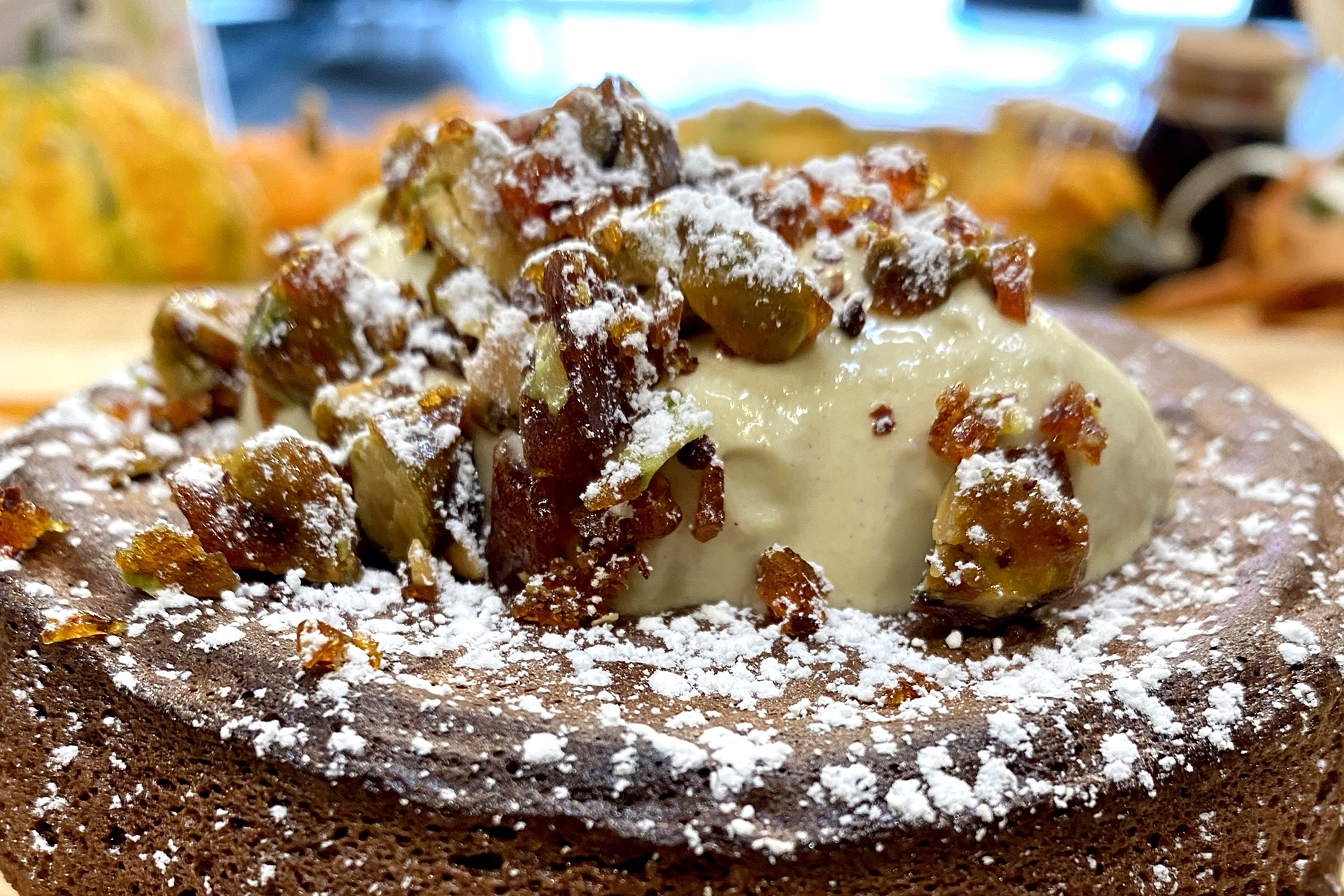 Yield
Eight – 6 oz. (175 ml) soufflés
Ingredients
Pistachio Caramel
½ cup / 100 g sugar, granulated
2 tbsp / 30 g water
1 tsp / 6 g kosher salt
⅓ cup / 45 g pistachios, coarsely chopped
Whipped Cream
1 cup / 240 g heavy cream
⅓ cup / 80 g pistachio butter
Pistachio Chocolate Soufflé
2 ¼ cups / 385 g dark chocolate chips (66% to 70% Cocoa)
7 tbsp / 100 g butter, unsalted plus more for coating ceramic ramekins
½ cup / 120 g pistachio butter
6 each / 120 g egg yolks
¾ cup / 150 g sugar, granulated
¼ tsp / 1 g cream of tartar
1 ¾ cups / 380 g egg whites
Instructions
Pistachio Caramel
Combine sugar, water and sea salt in a medium sauté pan or skillet. Heat over low heat to melt sugar. Simmer until syrup turns amber color, like honey. Add chopped pistachios and stir in until coated with syrup. Pour onto a silicon baking mat or parchment paper and spread mixture out with the back of a spoon. Allow to cool completely and chop into pistachio-size pieces.  
Whipped Cream
Pour cream into a cold mixing bowl and whisk until medium soft peak. Fold in pistachio butter and continue whisking to medium stiff peaks.   
Pistachio Chocolate Soufflé
Prepare 6-oz. (175 ml) baking cups by coating sides and bottoms with soft butter and coating with sugar. Set aside. 
Over a double boiler, melt together chocolate, butter and pistachio butter. In a separate bowl, whisk together the eggs yolks and sugar for about 3 minutes. Combine the two mixtures and fold together until fully combined.
Using an electric mixer, beat egg whites and cream of tartar with an electric mixer at medium speed until the egg whites are fluffy and hold soft peaks. Add sugar, 1 tablespoon at a time, beating until whites hold stiff peaks.
Add equal amount of egg whites in three stages. Pour mixture into baking cups all the way to the top. Scrape off any excess with an offset spatula or knife to make an even top. Run your finger around inside of rim to create a separation between soufflé batter and baking dish. Bake in a preheated 375 °F (190 °C) for approximately 15 minutes, or until soufflés have risen.
Assembly
Arrange small plates in a row. Next to plates arrange whipped cream, chopped pistachio caramel and powdered sugar in shaker with fine mesh. 
Remove soufflés from the oven, and moving quickly, but carefully place a soufflé on each plate. Spoon a dollop of whipped cream onto each soufflé, sprinkle with chopped pistachio crumble and sprinkle generously with powdered sugar. Plating the souffles is best done with two people.
Equipment, smallware and tools: Standing mixer, off-set spatula, 6 to 8 oz. (175 to 235 cm) ceramic ramekins or other oven-proof baking cups, 8 to 10-inch (20 to 25 ml) skillet, baking mat, knife, whisk, assorted bowls and rubber spatulas.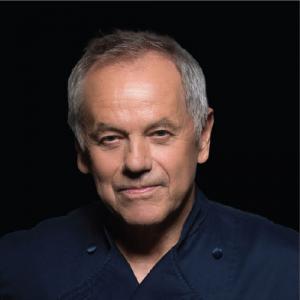 The name Wolfgang Puck is synonymous with the best of restaurant hospitality and the ultimate in all aspects of the culinary arts. The famed chef has built a brand that encompasses three companies: Wolfgang Puck Fine Dining Group, Wolfgang Puck Catering, and Wolfgang Puck Worldwide, Inc.