Roasted Rack of Lamb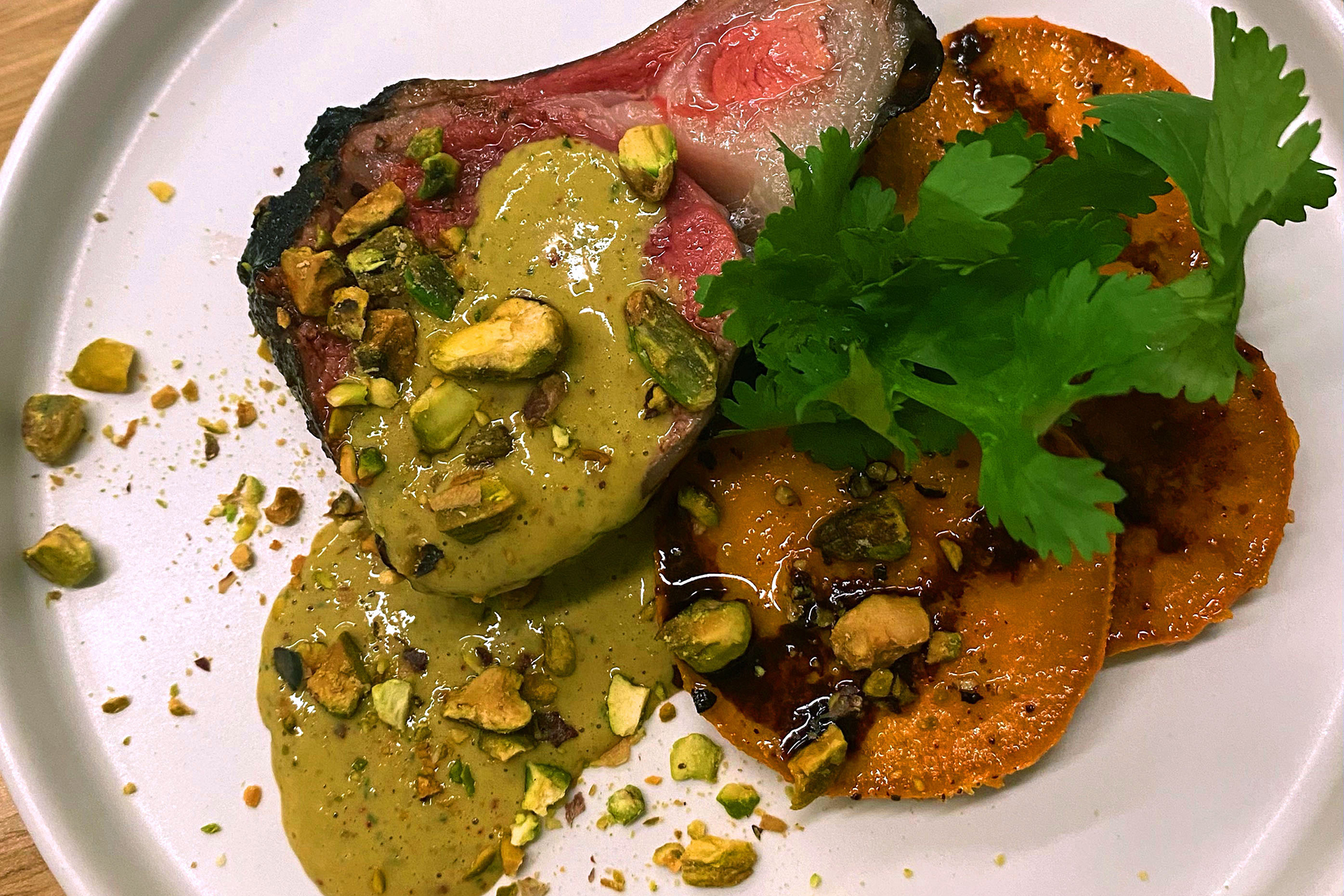 Yield
6 to 8 servings
Ingredients
Pistachio Sate Sauce
1 cup / 230 g coconut milk
¼ cup / 60 g lime juice, freshly squeezed
¼ cup / 60 g pistachio butter*
1 tbsp / 16 g soy sauce
¼ cup / 5 g cilantro
¼ cup / 13 g green onions, minced
2 tsp / 30 g Aleppo chiles, or another mild citrussy chile
Sweet Potatoes
2 each, sweet potatoes, medium, peeled and sliced ½ inch (1.25 cm) thick 
Olive oil, as needed
Kosher salt, as needed
Black pepper, freshly ground, as needed
½ cup / 50 g pistachios, coarsely chopped
Pomegranate syrup, as needed
Cilantro sprigs, as needed
Rack of Lamb
2 each lamb racks, frenched
Olive oil, as needed
Kosher salt, as needed
Black pepper, freshly ground, as needed
½ cup / 170 g pomegranate syrup
Instructions
Pistachio Sate Sauce
In a small saucepan combine coconut milk and lime juice. Heat over medium heat, whisking constantly until coconut milk is hot and aromatic. Transfer to a blender and add remaining ingredients. Adjust seasonings to taste and set aside. 
Sweet Potatoes
Arrange sliced sweet potatoes on a parchment-lined sheet pan and season both sides with olive oil, salt and pepper. Roast in a preheated 450°F for 15 to 20 minutes, or until tender.
Rack of Lamb
Rub all sides of lamb racks with olive oil, salt and pepper. Place on a baking sheet and drizzle pomegranate syrup across the top of each rack and even out across surface with a pastry brush. 
Roast in a preheated 450 °F (232 °C) for 15 to 20 minutes for rare/medium rare, or longer depending on preferred doneness. Remove from oven and let rest for 10 to 15 minutes. 
Assembly
Cut lamb racks between the bones into individual chops. You can plate the lamb on individual plates or a platter. Using your own presentation style, fan the sweet potatoes on both sides of plates or platter, arrange 2 chops per person between sweet potatoes, drizzle Pistachio Sate onto plate, drizzle pomegranate syrup on top of sweet potatoes and sprinkle with a generous amount of pistachios, finish with a few sprigs of fresh cilantro.
Equipment and smallwares: Blender, baking sheets, small saucepan, whisk and pastry brush.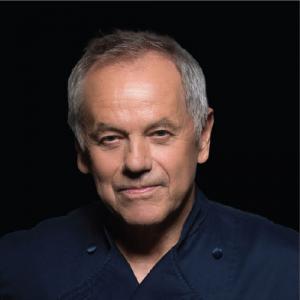 The name Wolfgang Puck is synonymous with the best of restaurant hospitality and the ultimate in all aspects of the culinary arts. The famed chef has built a brand that encompasses three companies: Wolfgang Puck Fine Dining Group, Wolfgang Puck Catering, and Wolfgang Puck Worldwide, Inc.