Smoky Pumpkin Soup with Pistachio Twists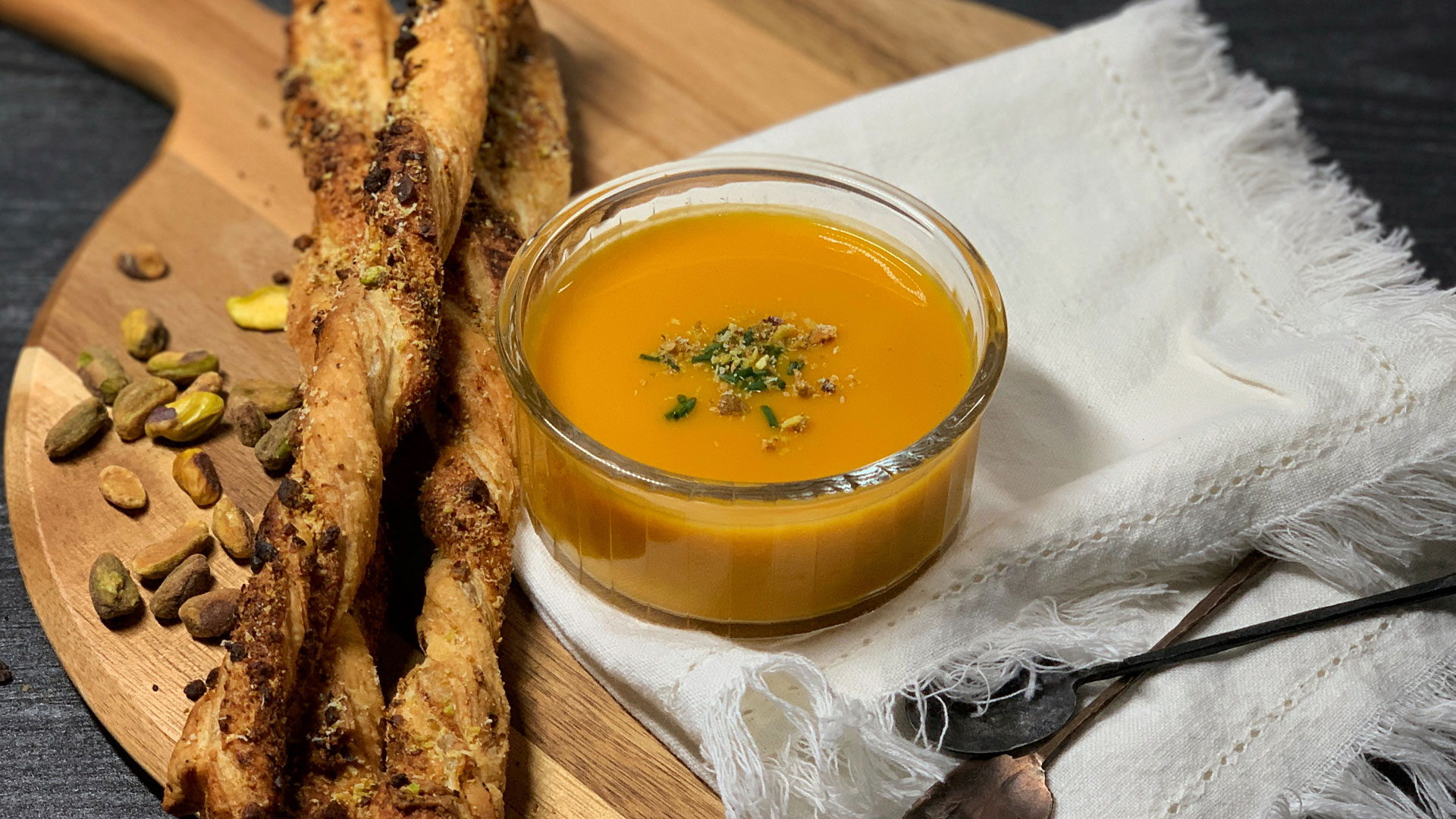 Yield
2 servings
Ingredients
Pumpkin Soup: 
16oz organic pumpkin (or sweet potato, carrot, butternut squash)
1 small yellow onion, diced 
1 tablespoon garlic, minced
2 tablespoons olive oil 
2 1/2 cups no-chicken broth 
1 tablespoon smoked paprika 
1 teaspoon hickory powder 
1 teaspoon red chili flakes 
1 pinch ground ginger  
Salt & pepper 
6 fresh sage leaves 
*vegan sour cream (optional garnish)
Pistachio Twists: 
1 sheet frozen puff pastry (thawed according to box directions)
Flour for dusting 
1/4 cup pistachios roasted & salted, crushed 
1/4 cup vegan parmesan or nutritional yeast flakes 
1/4 cup plant-based milk or vegan egg 
Instructions
Pumpkin Soup:
1. In a small pan over med-high heat, sauté onions, garlic and red chili flakes in olive oil until fragrant, about 3 minutes.
2. Add onion& garlic mixture plus pumpkin, broth, smoked paprika and hickory powder to a blender. Blend for 60 seconds, until smooth. Add salt & pepper to taste. Thin with additional broth or water to your desired consistency.
3. Garnish with sage leaves and sour cream
Pistachio Twists:
1. Preheat the oven to 400°F (204°C). Line a baking sheet with parchment paper.
2. On a lightly floured surface, unfold the puff pastry.
3. Lightly sprinkle the pastry sheet(s) with flour. Grab a rolling pin and roll the pastry to between 1/8- and 1/4-inch thickness.
4. Combine the parmesan and pistachios, then sprinkle half the mixture evenly over half of the pastry.
5. Fold the pastry half without toppings over the parmesan/pistachios. Press gently.
6. Lightly brush the pastry with some of the egg mixture or plant-based milk. Sprinkle the remaining parmesan/pistachio mixture on top of the pastry.
7. Using a sharp knife or a pizza cutter, slice the puff into 12 strips, each about 1/2 inch wide.
8. Place the strips on the baking sheets, seasoned side up. Working with 1 twist at a time, hold an end in each hand and twist the strips at least twice, twisting in opposite directions to create a long spiral. Place it back on the sheet and repeat. Bake the twists until puffed and golden brown, 16 to 18 minutes. Let cool to room temperature before serving.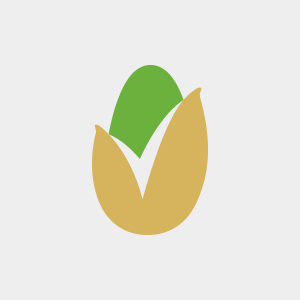 American Pistachio Growers (APG) is a non-profit trade association representing over 800 grower members in California, Arizona, and New Mexico.