Tartare of Fresh Beets and Pistachios with Thyme Goat Cheese Cream
Yield
5 servings
Ingredients
Tartare
I pound Fresh beets or 3 medium size bulbs
6 ounces Coarsely chopped pistachios 
½ teaspoons Chopped garlic (almost like puree)
3 tablespoons Cumin powder
3 tablespoons Fresh tomato puree (for a small tomato, chopped very thin 
2 tablespoons Cilantro, chopped
2 tablespoons Mint, chopped
6 tablespoons Red wine vinegar
5 tablespoons Pistachio oil 
1 small Bunch of baby arugula  
Goat Cheese Cream 
6 ounces Goat cheese log
½ cup Raw milk
¼ cup Heavy cream 
2 tablespoons Olive oil 
1 teaspoon Chopped fresh thyme 
½ teaspoon Garlic powder 
Instructions
Cook the beets for 1 hour 30 minutes in salted water (al dente, cool and peel and brunoise).
Reserve at room temperature.
While beets are cooking, prepare Goat Cheese Cream.  In a small bowl, mix goat cheese, milk, cream, olive oil, thyme, garlic, and salt and pepper to taste. Mix well until smooth, like cream. Reserve at room temperature.
In a large bowl, mix the beets, pistachios, chopped garlic, cumin powder, tomato puree, cilantro, mint, red wine vinegar, pistachios oil and salt and pepper, to taste.
To Plate
In the center of 5 plates, center 5 stainless steel forming rings, 3 inch in diameter. Divide the beet tartare into the five forming rings. Add the goat cheese cream around the perimeter. Add a couple of arugula leaves for decoration.
Serve with toasted country bread.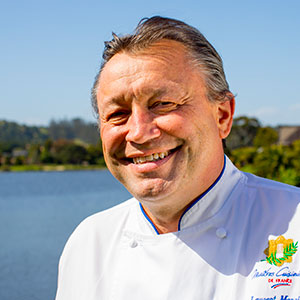 Owner of Café de la Presse and Blanc et Rouge and Herlen Place Wine Bars, San Francisco
Co-owner of Aquitaine Wine Bistro, San Francisco; Millésime, New York
Member – Maître Cuisinier de France (Master Chef of France)
Recipient of Chevalier du Merite Agricole (Knight of the Order of Agricultural Merit)