Pista Nimbu Kebab
Ingredients
1 kg Chicken (Boneless Thigh Pieces)
400 g California Pistachios
100 g Yellow chilli powder
50 ml Lemon juice
3 g Lemon zest
50 ml Cream
200 g Ghee
50 g White pepper powder
100 g Ginger and garlic paste
400 g Yoghurt (hung)
50 g Turmeric powder
1 no. Banana leaf
Salt to taste
Instructions
Cut the chicken into thin slices. Marinate it with little lemon juice, salt & ginger garlic paste.
Keep the marinated chicken in the chiller for 1 hour.
Blanch pistachio kernels and ensure that all skin is removed. Then make a fine paste (paste should be thick)
Add pistachio paste, yogurt, white pepper, yellow chilli powder, turmeric, lemon zest, salt and little ghee to the marinated chicken. Mix well.
Now, wrap the marinated chicken with banana leaves.
Heat an Iron plate (tawa), put ghee and  place the wrapped chicken in the ghee. Cook on slow flame till done.
Serve hot.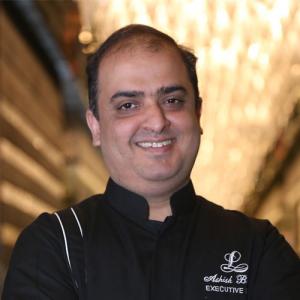 One of the most celebrated chefs in India, having been awarded the country's Top 5 Chef (Hotels) Award (2018).