Pistachio Phyllo Cups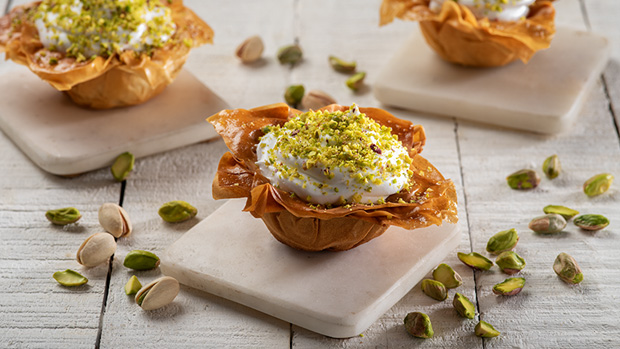 Ingredients
Baked phyllo cups
American Pistachio filling
200 g Cream cheese
FOR FILLING
450 g California Pistachios
20 ml Rosewater
300 g Sugar
100 ml Honey
7 g Cinnamon powder
2 g Clove powder
10 ml Lemon juice
FOR PHYLLO CUPS
350 g Phyllo dough sheets
150 ml Unsalted butter
50 ml Oil
 
Instructions
FOR FILLING
Mix pistachio with sugar, rosewater, honey, lemon juice, cinnamon, clove and cook till sugar dissolves.
Coarsely chop pistachio and mix in the syrup and let it cool and thicken
FOR PHYLLO CUPS
Lay 12 phyllo flat sheets and trim them to match the size of baking dish. Divide them in 2 sets of 6 sheet each and keep them between two clean and slightly damp kitchen towels.
Melt butter and mix little oil.
Lightly brush the tray with butter mixture
Arrange two trimmed phyllo sheets & slightly brush with butter mixture. Now gently press the corners and sides of the baking pan.
Ensure evenly spread the butter without missing any part of the sheet. Repeat the process twice. 
Keep it in refrigerator for an hour.
Cut the layered phyllo sheet with sharp knife in 2 inch by 2 inch square.
Put the layered phyllo square on a small bowl and shape them like a cup.
For baking put it in preheated oven (180 C) directly from refrigerator. Bake uncovered till it turns golden and crisp
Put cream cheese in a phyllo cup and top it with pistachio filling
Important points
Keep phyllo sheets in between two clean and slightly damp kitchen towels. This will prevent phyllo sheets from getting dry and will keep lenient so they won't tear or break too much.
Just gently brush the butter on here and there without covering every inch of the surface.
Phyllo dough tears easily, but that's ok. You are building up several layers of dough, so a rip or ragged edge here and there will be fine
Do not try to use frozen phyllo, it will break.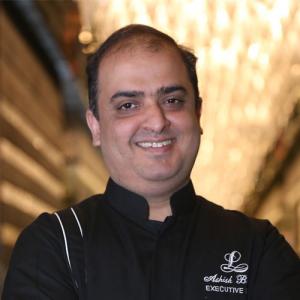 One of the most celebrated chefs in India, having been awarded the country's Top 5 Chef (Hotels) Award (2018).