Banana Flambe with California Pistachios and Shredded Coconut
Suggested Wine Pairing: Braccheto d'Asti or California Late Harvest Viognier
Yield
4 servings
Ingredients
Sauce
1/4 cup / 55 g butter
1/2 cup / 110 g packed light brown sugar
1/2 tsp / 1 g Chinese five-spice powder
2 tbsp / 15 g crushed California pistachios
2 tbsp / 30 g fresh orange juice, divided
1 tbsp / 5 g orange zest
1/2 tsp / 1 g grated ginger 
1-1/2 tsp / 5 g vanilla extract
2 firm ripe bananas, peeled and sliced lengthwise then crosswise
Flambe
3 tbsp / 45 g grain alcohol
Vanilla ice cream
2 tbsp / 15 g crushed California pistachios
2 tbsp / 10 g shredded coconut
1 tsp / 5 g toasted sesame seeds
Instructions
Sauce
In a wok or saute pan, melt butter over medium heat. Add sugar, Chinese five-spice, pistachios and one tablespoon / 15 g orange juice; cook until sugar is dissolved. Add orange zest, grated ginger, vanilla extract and remaining orange juice; cook for 15 seconds.  Add bananas; cook until soft.
Flambe
Drizzle grain alcohol over bananas and flambe.
To serve, place one to two scoops ice cream in individual serving bowls.  Add a few banana slices with sauce on top of ice cream. Sprinkle with pistachios, shredded coconut, and sesame seeds. Serve immediately.
Equipment, smallware and tools: Wok or saute pan, spatula, or wooden spoon, paring knife, ice cream scooper, micro zester, grater, cutting board, Chef's knife, and serving bowls.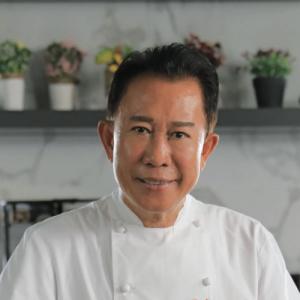 Spanning over four decades, celebrity Chef Martin Yan has traveled around the world, sharing the best of Chinese and American culture, food, and personal enrichment with multiple generations of audiences. His grand vision is shaped by more than 3,500 culinary and travel TV shows, 32 cookbooks, and several restaurants in North America and Asia, which include M.Y. China, a highly rated culinary hot spot in San Francisco.