Curried Angus Beef in a Golden Cup
Suggested Wine Pairing: Napa Valley Charbono or European Refosco 
Yield
6-8 golden cups
Ingredients
Marinade
1 tsp / 5 g cornstarch                                                                                                  
¼ tsp / 1 g salt
1/8 tsp / 1 g white pepper
Meat
8 oz / 230 g Angus beef, cut into ½-inch / 1.5 cm cubes.
Seasonings
2 tbsp / 15 g beef or chicken stock
1 tbsp / 15 g rice wine
2 tsp / 10 g light soy sauce
1-1/2 tsp / 5 g sesame oil
1/2 tsp / 1 g curry powder
1/4 tsp / 1 g Chinese five-spice powder
Stir-fry mixture
2 tbsp / 30 g cooking oil
2 garlic cloves, minced 
2 green onions, cut into 1/4-inch / 0.5 cm pieces
1/3 cup / 40 g diced fried potatoes
1/4 cup / 30 g whole California pistachios     
1/2 tsp / 1 g cornstarch dissolved in 1 tsp / 5 g water (slurry) 
Assembly
6-8 wonton wrappers
Frying oil
Thinly sliced fresh red chili peppers
Instructions
Marinade
In a medium bowl, combine ingredients.
Meat
Add beef to marinade; stir to coat.  Set aside for 20 minutes.
Seasonings
In a small bowl, combine ingredients.  Set aside.
Stir-fry mixture
Heat oil in a wok or stir-fry pan over medium-high heat until hot. Add minced garlic and marinated beef; stir-fry 1 minute. Remove beef and set aside.  Add green onions, potatoes, and seasonings mix; stir-fry 1 minute. Return beef and add pistachios; cook beef to desired doneness. Add slurry; cook, stirring, until sauce thickens slightly. Remove from heat and keep warm. 
Assembly
Deep-fry wonton wrappers until golden brown (using a strainer to shape into a cup when frying).
Serve stir-fry mixture in crispy wonton cups.  Garnish with chili peppers.
Equipment, smallware and tools: One medium and one small bowl, cutting board, Chef's knife, whisks, wok or stir-fry pan, cooking spatula, deep fryer, strainer, tongs, and spoon.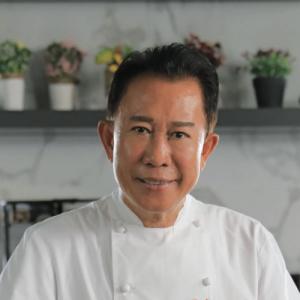 Spanning over four decades, celebrity Chef Martin Yan has traveled around the world, sharing the best of Chinese and American culture, food, and personal enrichment with multiple generations of audiences. His grand vision is shaped by more than 3,500 culinary and travel TV shows, 32 cookbooks, and several restaurants in North America and Asia, which include M.Y. China, a highly rated culinary hot spot in San Francisco.