Pistachio-Crusted Shrimp Balls
Suggested Wine Pairing: Muscadet Sevre-et-Maine or Txakoli Rosado 
Yield
4 servings
Ingredients
Dipping Sauce
3/4 cup / 200 g Thai sweet chili sauce
1 tsp / 5 g fish sauce
1 tsp / 5 g lime juice
Zest from 1/2 lime
Marinade
1 egg white
1 tsp / 1 g grated ginger
3/4 tsp / 5 g garlic salt
2 tsp / 5 g cornstarch
Shrimp Mousse
8 oz / 225 g shrimp, shelled, deveined
2 tbsp / 15 g coarsely chopped California pistachios
Coating Mix
1/2 cup / 40 g Japanese-style breadcrumbs (Panko)
2/3 cup / 70 g crushed California pistachios
2 tbsp / 20 g white sesame seeds
Deep-frying
Cooking oil for deep-frying
Instructions
Dipping Sauce
In a medium bowl, combine ingredients. Set aside.
Marinade
In a medium bowl, combine ingredients.
Shrimp Mousse
Add shrimp to marinade; stir to coat.  Set aside for 15 minutes.
In a food processor, process marinated shrimp until just finely chopped. Place in a bowl and add chopped pistachios.
Coating Mix
In a medium bowl, combine coating ingredients.  
Deep-frying
Form shrimp mousse into small balls (about 1-1/4-inch / 3 cm diameter). Evenly coat with coating mix. Deep-fry in hot oil over medium-low heat, turning occasionally.  When shrimp balls begin to float to the top, continue to cook for 1-1/2 minutes. Turn occasionally to brown evenly. Lift deep-frying basket out and drain shrimp balls on paper towels.
Assembly: Serve shrimp balls with dipping sauce on the side.
Equipment, smallware and tools: Four medium bowls, whisks, wooden spoons or spatulas, grater, cutting board, Chef's knife, food processor, deep-fryer, large sauce pot or wok for frying, strainer, paper towels, spider skimmer, and serving plates.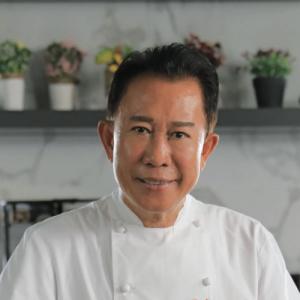 Spanning over four decades, celebrity Chef Martin Yan has traveled around the world, sharing the best of Chinese and American culture, food, and personal enrichment with multiple generations of audiences. His grand vision is shaped by more than 3,500 culinary and travel TV shows, 32 cookbooks, and several restaurants in North America and Asia, which include M.Y. China, a highly rated culinary hot spot in San Francisco.