Fish Cutlets with Tangy Lemon Sauce
Suggested Wine Pairing: Encruzado or Manzanilla Sherry
Yield
4 servings
Ingredients
3/4 – 1 lb / 340 – 450 g firm fish fillets (such as tilapia, catfish or salmon) cut into 2- x 4-inch / 5- x 10- cm pieces
Salt to taste
Black pepper to taste
1/2 cup / 65 g all-purpose flour/cornstarch 1:1 mixture
2 eggs, lightly beaten
1/2 cup / 40 g Japanese-style breadcrumbs (Panko)
1/2 cup / 50 g crushed California pistachios
Cooking oil 
Tangy Lemon Sauce
1/4 cup / 60 g fresh lemon juice
2 tbsp / 15 g fish or chicken stock
2 tbsp / 30 g rice vinegar
1/2 tsp / 1 g Tabasco Sauce
2-1/2 tbsp / 35 g packed brown sugar
1 tsp / 5 g cornstarch mixed with 2 tsp / 10 g water (slurry)
Mixed pickled vegetables
Instructions
Sprinkle fish fillets with salt and pepper. Place flour/cornstarch mixture and beaten eggs in separate bowls. Combine breadcrumbs and crushed pistachios in a third bowl. Lightly coat fish with flour/cornstarch mixture, then dip in egg; drain briefly. Coat fish with bread crumb-pistachio mixture.
Place a wide frying pan over medium heat. When oil is hot, add fish; pan-fry for 2 minutes on each side, or until cooked to desired doneness. Lift out and drain on paper towels. Arrange on a serving plate and keep warm.
Tangy Lemon Sauce
In a small saucepan, bring all lemon sauce ingredients except slurry to a boil over medium heat. Add slurry; cook, stirring, until sauce thickens slightly.  
Assembly: Pour sauce over fish, garnish with pickled vegetables and serve.
Equipment, smallware and tools: Three medium bowls, cutting board, Chef's knife, whisks, wide frying pan, fish spatula, small saucepan, strainer, cooking spatula, plate, paper towels, serving plates, and ladle.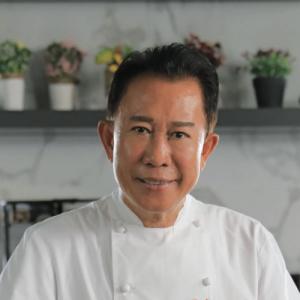 Spanning over four decades, celebrity Chef Martin Yan has traveled around the world, sharing the best of Chinese and American culture, food, and personal enrichment with multiple generations of audiences. His grand vision is shaped by more than 3,500 culinary and travel TV shows, 32 cookbooks, and several restaurants in North America and Asia, which include M.Y. China, a highly rated culinary hot spot in San Francisco.