Ground Pistachio Nankhatai Cookies
Yield
20
Ingredients
1-1/2 cup      all-purpose flour
¼ cup           finely ground pistachios
1 tsp             baking powder
1 tsp             cardamom powder
½ cup            softened butter
3/4 cup          sugar
2 drops          rose essence
¼ cup   finely chopped pistachios for garnish
Instructions
Preheat oven to 360 degrees F. Prepare a cookie sheet with parchment paper
Combine flour, ground pistachio, baking powder, cardamom and sugar. Stir to mix together well. Pour melted butter into flour mixture, you may not need all the butter. Bring the flour together to make a stiff dough.
Make 20 balls out of the dough. Slightly flatten and press with a fork lightly to make a mark. Top each cookie with some chopped pistachios. Bake for 10 minutes or until golden around the edges. Cool cookies on a wire rack. May be stored in an airtight container for up to 2 weeks.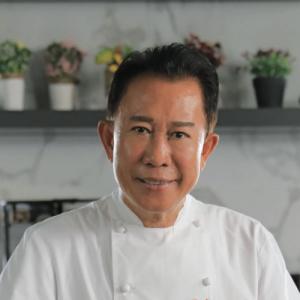 Spanning over four decades, celebrity Chef Martin Yan has traveled around the world, sharing the best of Chinese and American culture, food, and personal enrichment with multiple generations of audiences. His grand vision is shaped by more than 3,500 culinary and travel TV shows, 32 cookbooks, and several restaurants in North America and Asia, which include M.Y. China, a highly rated culinary hot spot in San Francisco.