Chef Yan's Favorite Paella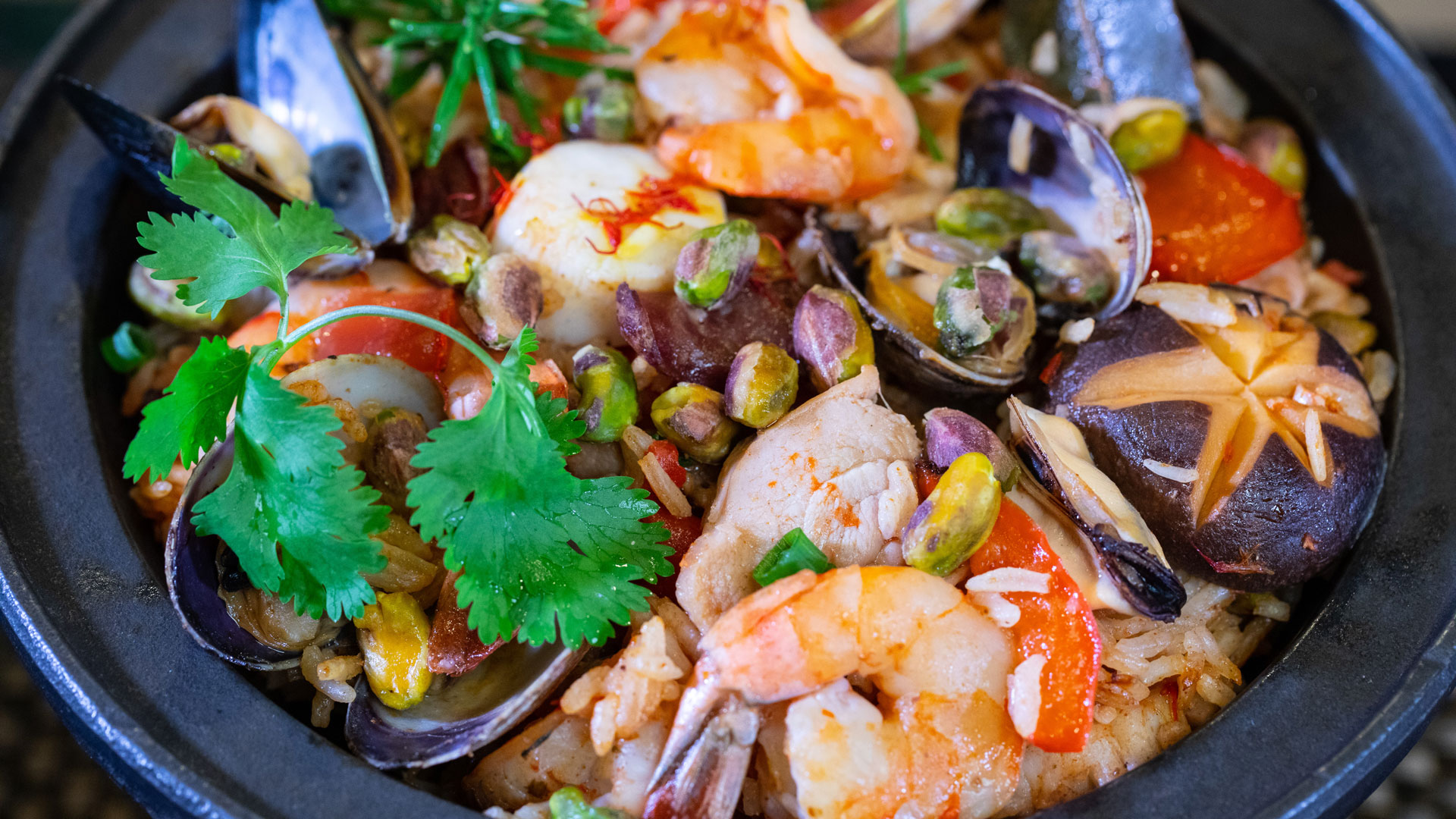 Yield
4 servings
Ingredients
Seasonings 
1/3 cup Shaoxing wine 
3 tbsp ketchup 
2-1/2 tsp oyster-flavored sauce 
1 tsp fish sauce 
4 tsp chili garlic sauce 
2 tsp sesame oil 
1 tsp paprika 
1 tsp salt
4 pinch saffron threads, soaked
Rice and Seafood
1-3/4 cup rice (arborio rice preferred)
4 cups chicken stock
6 oz shelled and deveined shrimps, halved
10 oz mussels, cleaned 
4 oz sea scallops, cleaned
3/4 cup American pistachio kernels 
Stir-fry Mixture 
3 tbsp olive oil  
6 cloves garlic, chopped 
1/4 cup dried shrimp, soaked to soften 
2 Chinese sausage, thinly sliced 
1/2 red bell pepper, seeded and diced 
1 yellow onion, diced 
6 dried shiitake mushroom, soaked to soften, thinly sliced
1 large tomato, diced or 1 can diced tomatoes 
2 dried bay leaves
8 oz boneless, skinless chicken thighs, cut into bite-size pieces
Instructions
Seasonings: In a medium bowl, combine seasoning ingredients. Set aside.
Stir-fry Mixture: Heat oil in a large wok or pot over med ium-high heat until hot. Add garlic; cook, stirring, until fragrant, 10 seconds. Add soaked shrimp and sausages; stir-fry 2 minutes. Add bell pepper and onion; cook until onion is opaque. Add mushrooms, tomato and bay leaves; cook 2 minutes. Add chicken; cook 2 minutes.
Rice and Seafood: Add rice and soup stock to stir-fry mixture; bring to a boil. Continue to cook until most of the water has evaporated. Add seafood and seasonings. Reduce heat to low. Cover and simmer 15 - 20 minutes or until rice is cooked. While mixture is simmering, incorporate pistachios into rice.  Garnish with green onions and cilantro.
Assembly
1 green onion, thinly sliced; 1/4 cup cilantro , chopped
Paella can be served in the original large wok or pot or transferred to a large serving plate. Sprinkle with green onions and cilantro before serving. 
Equipment, smallware and tools
Small and medium bowls, cutting board, chef's knife, large wok or pot with lid, cooking spatula, liquid measuring cup, large serving plate (optional).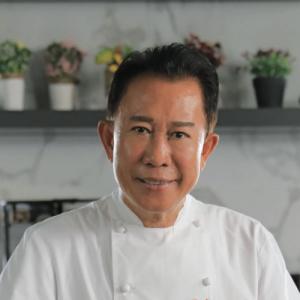 Spanning over four decades, celebrity Chef Martin Yan has traveled around the world, sharing the best of Chinese and American culture, food, and personal enrichment with multiple generations of audiences. His grand vision is shaped by more than 3,500 culinary and travel TV shows, 32 cookbooks, and several restaurants in North America and Asia, which include M.Y. China, a highly rated culinary hot spot in San Francisco.