Creamy Carrot Ginger Soup with California Pistachios
Suggested Wine Pairing: Hungarian Dry Tokaji or Fumé Blanc 
Yield
6-8 servings
Ingredients
Pistachio Cream
1 cup / 125 g California pistachios, roasted and lightly salted
2 tbsp / 30 g cooking oil
3/4 – 1 cup / 180 – 240 ml water
Soup
3 tbsp / 40 g butter 
1-1/2 lb / 680 g carrots, peeled and thinly sliced  
1 medium onion, finely chopped (about 1-1/2 cups / about 160 g)
2 tbsp / 20 g chopped green onions, green parts only
1/4 tsp / 0.5 g Chinese five-spice powder
1/2 tsp / 1 g salt 
2 cups / 480 ml chicken stock
1 cup / 240 ml water
1 tbsp / 5 g grated ginger
1 tbsp / 5 g lemon or orange zest
½ cup / 50 g crushed California pistachios
Chopped cilantro 
Chopped green or yellow chives
Crushed California pistachios
Pistachio cream
Instructions
Pistachio Cream
Combine all ingredients in a food processor and blend until smooth, adjusting amount of water to desired consistency. Set aside.
Soup
Melt butter in a soup pot over medium heat. Add sliced carrots, onion, and green onions; cook, stirring occasionally, until onion is softened, about 6 – 8 minutes.  Add Chinese five-spice and salt. Stir in stock, water, grated ginger, and lemon zest. Reduce heat; simmer until carrots are softened, about 15 minutes. Pour soup into a blender and blend until smooth. Stir in pistachios.
Assembly
Pour soup into individual soup bowls. Swirl in a small amount of pistachio cream. Garnish with cilantro, chives, and crushed pistachios.
Equipment, smallware and tools: Soup pot, food processor, blender, spatula or wooden spoon, ladle, cutting board, Chef's knife, peeler, soup bowls, and measuring spoons.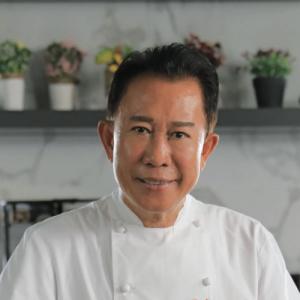 Spanning over four decades, celebrity Chef Martin Yan has traveled around the world, sharing the best of Chinese and American culture, food, and personal enrichment with multiple generations of audiences. His grand vision is shaped by more than 3,500 culinary and travel TV shows, 32 cookbooks, and several restaurants in North America and Asia, which include M.Y. China, a highly rated culinary hot spot in San Francisco.