Crispy Pistachio Eight Treasure Rolls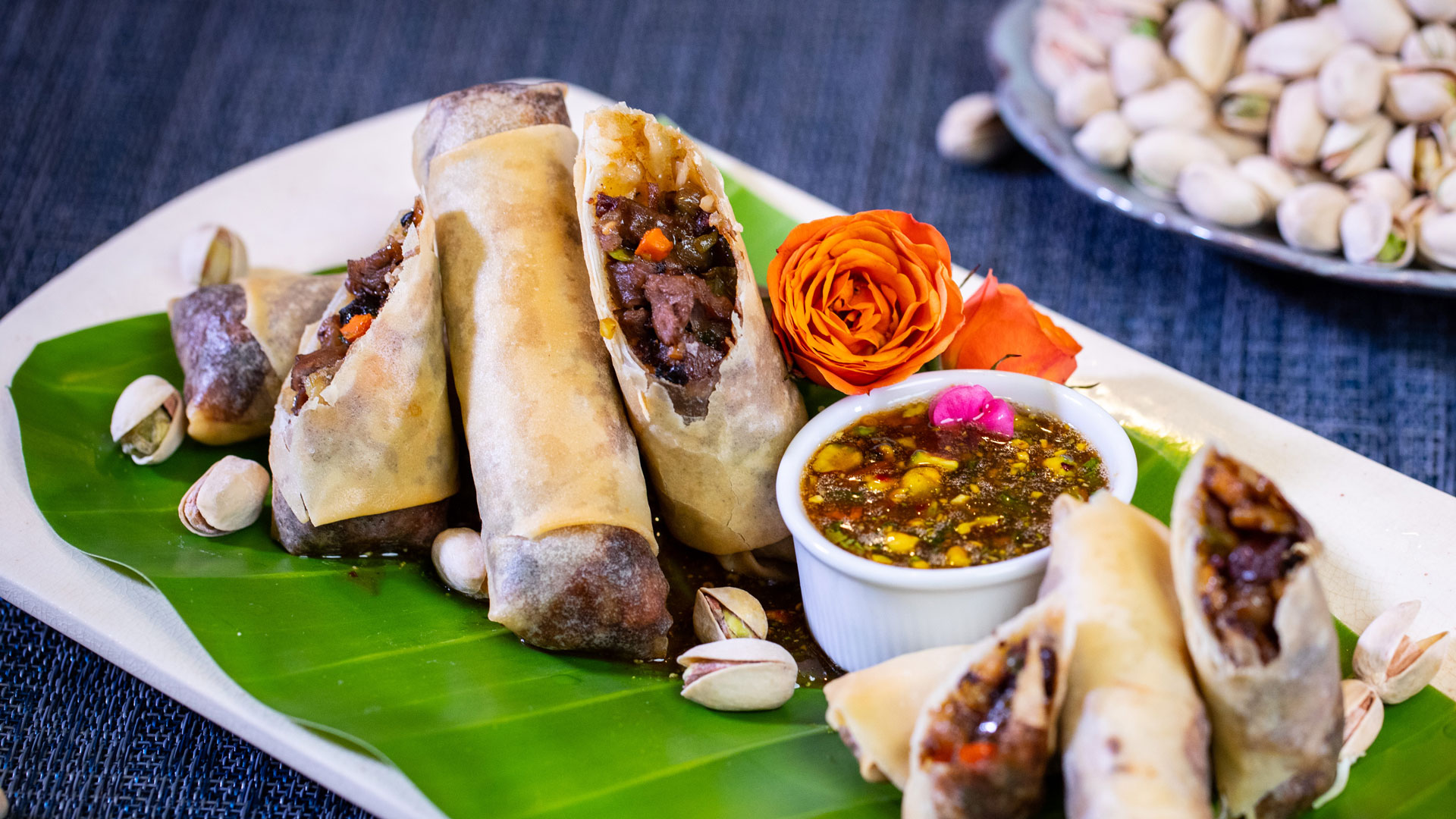 Yield
4 servings
Ingredients
Seasonings 
2 tsp soy sauce 
2 tsp hoisin sauce 
2 tsp sugar 
appropriate amount white pepper
appropriate amount Sichuan peppercorn powder
Dipping Sauce 
60g Thai sweet chili sauce 
4g green onion, sliced 
20g chopped American pistachios
4g chopped cilantro 
2 tsp soy sauce 
Appropriate amount Sichuan peppercorn oil 
Filling 
2 tsp cooking oil 
12g salted black beans, rinsed well and lightly crushed 
1 tsp chopped ginger 
1 tsp chopped garlic 
2 jalapeno or serrano chilis, diced 
20g Cantonese sausage, thinly sliced 
1/8 cup / 20g diced onion 
140g diced pork 
1/8 cup / 17.5g diced carrots 
40g diced spiced pressed bean curd 
20g sliced green onion 
120g water 
1/2 tsp chicken essence 
1/6 cup / 22.5g chopped American pistachios
2 tsp cornstarch dissolved in 4 tsp water
Spring Rolls 
About 12 spring roll wrappers 
Cooking oil, for frying 
4 tsp egg white wash 
Instructions
Seasonings: In a small bowl, combine seasoning ingredients. Set aside.
Dipping Sauce: In a small bowl, combine sauce ingredients. Set aside.
Filling: Heat oil in a wok or stir-fry pan over medium-high heat until hot. Add black beans, ginger, garlic and chilis; cook, stirring, until fragrant, about 10 seconds. Add sausage; stir-fry 1 minute. Add onion and meat; cook until onion is opaque and meat is browned, about 2 minutes. Add carrots, pressed bean curd, green onion, water, chicken essence, pistachios and seasonings; stir 2 minutes. Add cornstarch solution; cook, stirring, until mixture thickens. Remove from heat and let cool.
Spring Rolls: Mound about 1/4 cup / 35 g filling across one wrapper, keeping remaining wrappers covered with a damp cloth to prevent drying. Fold bottom corner of wrapper over filling to cover, then fold over right and left corners. Roll over once to securely enclose filling. Brush sides and top of triangle with egg white. Fold over to seal. Cover filled rolls with a damp cloth while filling remaining wrappers.
Assembly
Arrange spring rolls on a serving plate. Serve with dipping sauce on the side. 
Equipment, smallware and tools 
Two small bowls, cutting board, chef's knife, wok or stir-fry pan, cooking spatula, strainer, paper towels, serving plate and small serving bowl (for sauce)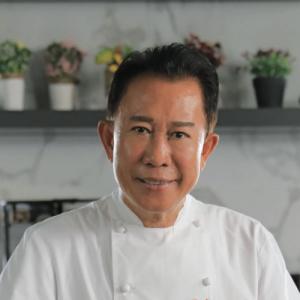 Spanning over four decades, celebrity Chef Martin Yan has traveled around the world, sharing the best of Chinese and American culture, food, and personal enrichment with multiple generations of audiences. His grand vision is shaped by more than 3,500 culinary and travel TV shows, 32 cookbooks, and several restaurants in North America and Asia, which include M.Y. China, a highly rated culinary hot spot in San Francisco.