Five-flavored Long-Life Noodles
Suggested Wine Pairing: Côtes de Jura or Italian Schiava
Yield
6-8 servings
Ingredients
Pistachio Cream
1 cup / 125 g California pistachios, roasted and lightly salted
2 tbsp / 30 g cooking oil
3/4 – 1 cup / 180 – 240 ml water
Sauce
1 tbsp / 20 g soy sauce
1 tbsp / 15 g sesame paste
1 tbsp / 15 g pistachio cream*
1 tbsp / 15 g sesame oil
2 tsp / 10 g chili garlic sauce or doubanjiang (spicy bean sauce)
1/4 tsp / 1 g Szechuan peppercorn powder
Noodles
1 lb / 450 g fresh noodles 
 4 oz / 60 g cooked chicken, shredded
1 small carrot, julienned
1/2 cucumber, peeled, seeded, cut into matchstick pieces
1/2 cup / 50 g coarsely chopped California pistachios
Red chili oil
Sesame oil
Instructions
Pistachio Cream
Combine all ingredients in a food processor and blend until smooth, adjusting amount of water to desired consistency. Set aside.
Sauce
Combine sauce ingredients in a small bowl; set aside.
Noodles
1 lb / 450 g fresh noodles 
Cook noodles according to package directions. Drain, rinse with cold water and drain again. Place noodles in a large bowl. Add sauce; toss to mix well.  
Assembly
To serve, place noodles in individual serving bowls. Arrange shredded chicken, carrots and cucumber pieces on top of noodles. Sprinkle with chopped pistachios. Drizzle with red chili oil and sesame oil.
Equipment, smallware, tools: One small and one large bowl, strainer, large pot, tongs, spoon, peeler, cutting board, Chef's knife, spatula, large sauce pan and serving bowls.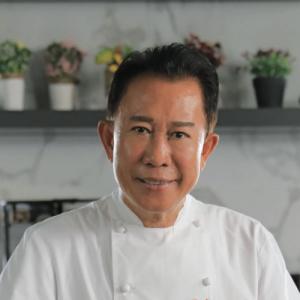 Spanning over four decades, celebrity Chef Martin Yan has traveled around the world, sharing the best of Chinese and American culture, food, and personal enrichment with multiple generations of audiences. His grand vision is shaped by more than 3,500 culinary and travel TV shows, 32 cookbooks, and several restaurants in North America and Asia, which include M.Y. China, a highly rated culinary hot spot in San Francisco.