Pistachio Egg Puffs with Shrimp and Scallops
Suggested Wine Pairing: Sonoma Coast Chardonnay or Crémant de Bourgogne Brut
Yield
4-6 servings
Ingredients
Marinade
1/2 tsp / 1 g onion salt
1/4 tsp / 1 g white pepper
2 tsp / 10 g cooking oil
1/2 tsp / 1 g sesame oil
1 tsp / 5 g cornstarch  
Shrimp
4 oz / 115 g small shrimp, butterflied
4 oz / 115 g bay scallops
Egg white stir-fry mixture
2 tsp + amount for frying omelet, cooking oil
6 egg whites, lightly beaten
1/4 cup / 15 g sliced yellow chives
2 tbsp / 15 g seafood or chicken stock
2 tsp / 10 g rice wine
1/4 cup / 25 g lightly crushed California pistachios and whole California pistachios (mixed)
Instructions
Marinade
In a medium bowl, combine marinade ingredients.  
Shrimp
Add shrimp and scallops to marinade; stir to coat. Set aside for 15 minutes.
Egg white stir-fry mixture
Place a medium non-stick frying pan over medium-high heat until hot. Add cooking oil, swirling to coat sides. Add egg whites, swirling pan to make a fluffy omelet. Cook for about 2 minutes. Be careful not to overcook. Lift out of pan, drain and set aside.
Add 2 teaspoons cooking oil to pan. Add shrimp and scallops; cook until shrimp turn pink. Add chives, stock, and wine; cook for 1 minute. Add egg white mixture and pistachios; mix well. 
Assembly:
1 green onion, thinly sliced
Saffron threads
Plate stir-fry and garnish with green onion and saffron threads.
Equipment, smallware and tools: Medium bowl, whisk, tongs, cutting board, Chef's knife, non-stick frying pan, cooking spatula, serving plate.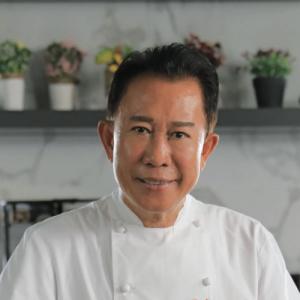 Spanning over four decades, celebrity Chef Martin Yan has traveled around the world, sharing the best of Chinese and American culture, food, and personal enrichment with multiple generations of audiences. His grand vision is shaped by more than 3,500 culinary and travel TV shows, 32 cookbooks, and several restaurants in North America and Asia, which include M.Y. China, a highly rated culinary hot spot in San Francisco.