Rainbow Vegetables in a Bowl
Suggested Wine Pairing: Sancerre or Greco di Tufo
Yield
4-6 servings
Ingredients
Stir-Fry Mixture
2 tbsp / 30 g cooking oil
2 tsp / 10 g minced garlic
2 tsp / 10 g minced ginger
1/4 cup / 30 g each diced:  carrots, asparagus, celery, red and yellow bell peppers, water chestnuts 
1/2 cup / 110 g diced five-spiced pressed tofu 
1/4 cup / 60 ml vegetable broth
1 tbsp / 5 g fermented bean curd, mashed
1/2 tsp / 1 g sugar
1/2 cup / 60 g whole California pistachios
1 tsp / 5 g cornstarch dissolved in 2 tsp / 10 g water (slurry)
Lettuce cups (iceberg or butter) or cooked acorn squash bowl
Instructions
Stir-Fry Mixture
Place a wok or stir-fry pan over high heat until hot. Add, oil, swirling to coat sides. Add garlic and ginger; cook, stirring, until fragrant, about 10 seconds. Add carrots and asparagus; cook for 1 minute. Add celery, bell peppers, water chestnuts, pressed tofu, broth, fermented bean curd, sugar, and pistachios; cook for 1- 2 minutes. Add slurry and cook, stirring, until sauce boils and thickens slightly.  
Serve stir fry mixture in individual lettuce cups or hollowed acorn squash bowls.
Equipment, small ware and tools:  Wok or stir-fry pan, spatula, serving plates, serving spoon, cutting board, Chef's knife.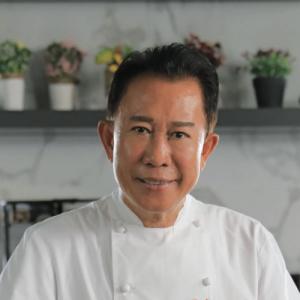 Spanning over four decades, celebrity Chef Martin Yan has traveled around the world, sharing the best of Chinese and American culture, food, and personal enrichment with multiple generations of audiences. His grand vision is shaped by more than 3,500 culinary and travel TV shows, 32 cookbooks, and several restaurants in North America and Asia, which include M.Y. China, a highly rated culinary hot spot in San Francisco.